The History of Diamondback Bikes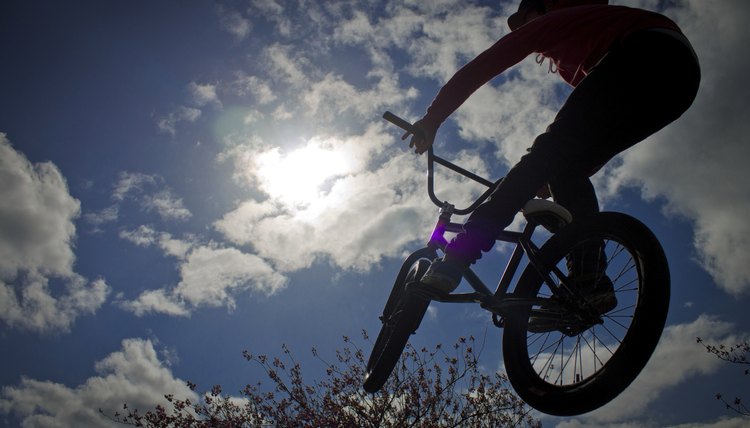 Diamondback is a brand of bicycles that come in a variety of styles, including hybrid or cruiser. When considering the history of Diamondback bikes, you need to look at two separate companies, Centurion and Raleigh. It is the history of these two entities that have led to the present day Diamondback bicycle series.
Centurion
Centurion bicycles are the predecessors of the Diamondback series. The first Centurion bikes came to the United States in 1969. The manufacturing company Western States Imports made the bikes in Japan and sold them in the U.S. During the next 20 years, the frame style of the Centurions evolved to include steel manufacturing, tone-on-tone color and Shimano hardware. In the 1980s, Centurion bikes became Centurion/Diamondback, and 10 years later, Centurion dropped off to become Diamondback.
Raleigh
The history of Raleigh bicycles dates to 1886, when a small workshop opened on Raleigh Street in Nottingham, England. The original manufacturer grew during the next century by buying other bicycle companies such as Carlton Cycles. In 1969, Raleigh began their U.S. market known as Chopper. In the mid- to late 1980s, Raleigh began to suffer setbacks. A private company, Derby International, took the manufacturer over and restructured. This venture led to new designs for Raleigh, such as the mountain bike and a folding cycle. In 1999, Derby purchased Diamondback and merged the two companies to develop Raleigh-Diamondback.
The Modern Day Companies
The company has changed hands and names a few times since Derby. As of 2011, two brands of Raleigh and Diamondback existed, both of which were owned by the same company. Kent, Washington, is the locale of the corporate offices of Raleigh America Inc., which is the owner of both trade names.
Modern Diamondback Bikes
As of 2011, Diamondback offered models in several styles, including dual sport, comfort and cruiser. The company carries a line specifically for women, Devine Designs, and youth cycles. Diamondback is a sponsor for professional cyclists, as well. Purchasing Diamondback bikes is done through independent distributors. The brand name has moved past just bicycles; Diamondback also produces fitness equipment such as elliptical, recumbent and stationary bikes. What started out as two separate companies combined to become one parent and two brands, including Diamondback.
References
Writer Bio
Writing since 1999, Darla Ferrara is an award-winning author who specializes in health, diet, fitness and computer technology. She has been published in "Mezzo Magazine" and Diet Spotlight, as well as various online magazines. Ferrara studied biology and emergency medical technology at the University of Nebraska and Southeast Community College.