How to Take Wheybolic Extreme 60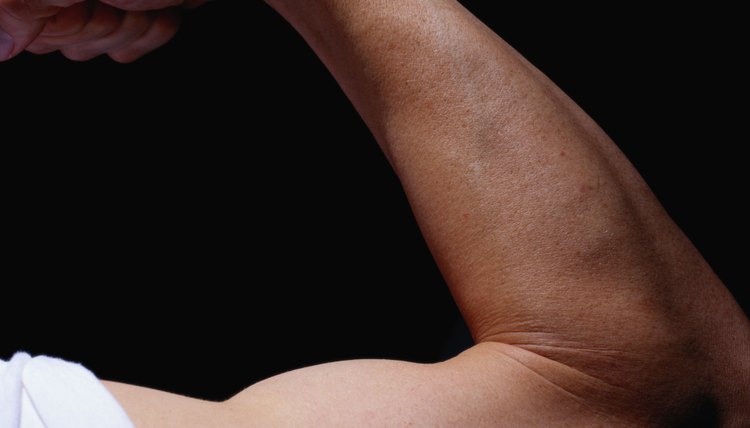 Quick muscle gain can be difficult to achieve, but supplements such as GNC's Wheybolic Extreme 60 may help speed up the process. Protein is a necessary nutrient that helps with growth, tissue repair and lean muscle preservation. A single serving of this protein powder contains 60g of protein, which is about the recommended amount for a 160 lb. adult. However, you must be careful when taking protein supplements as excess protein may potentially lead to kidney damage.
Fill a drinking glass with 1 1/2 cups of cold water. You can also use milk or any juice of your choice.
Add 3 scoops of the Wheybolic Extreme 60 powder with the scoop included in the jar.
Stir the liquid with a spoon for 10 seconds or until the powder dissolves.
Drink the liquid as quickly as possible. It's possible that all the powder may not dissolve, so it's best to drink the liquid before the undissolved powder sinks to the bottom.
Tips
Drink Wheybolic Extreme 30 minutes after each workout. Drink Wheybolic Extreme first thing in the morning on days you do not work out.
Warnings
Do not exceed the daily recommended amount of Wheybolic Extreme. Stop taking protein supplements if your sweat begins to smell like ammonia. This is a sign of kidney problems and should be checked out by a doctor.
References
Writer Bio
Wendy Rose Gould is a professional journalist who has contributed to "Glamour" magazine and the Huffington Post, among other publications. After internships at the "Indianapolis Business Journal," "Kiwanis International" and "NUVO Newsweekly," she earned BA degrees in journalism and philosophy from Franklin College in 2008. Gould specializes in lifestyle topics.