Bianchi Bicycle Identification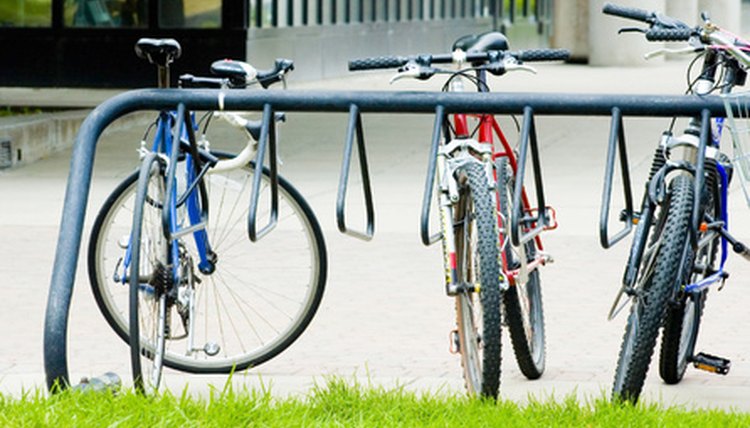 Italian-manufactured Bianchi bicycles hold a special place in the heart of many a bicyclist or bicycle aficionado. Italy is bicycle mecca, and several famed builders, such as Pinarello and Colnago, share Italian panache with Bianchi. Italian Bianchi bicycles are quality-built machines proudly manufactured in Italy; however, as do many other cycling manufacturers, Bianchi outsources many entry-level cycle frames from Taiwan.
Bianchi Celeste Green
Bianchi celeste green is nearly as famous as Bianchi bicycles. Bianchi has used this color for several decades, and most high-end quality Bianchi cycles were available or were only offered in this color. Celeste green is a light, but not pale, shade of sea-foam green. Cycling legend Fausto Coppi rode aboard a celeste Bianchi, according to the Bianchi website.
Bianchi Lugged Frames
Bianchi bicycles were commonly available in high-quality lightweight lugged steel frames; however, Bianchi now designs bicycles using many different metals and tube sets. Bianchi manufactured racing machines and machines for average cyclists as well, reports the late Sheldon Brown, noted bicycle authority. Lugged bicycles have sculpted metal lugs at the tube joints of the headset, seat and top tube, and bottom bracket areas holding the tubes together.
Italian Equipped Bianchi Bicycles
Quality Bianchi bicycles were often equipped with expensive Italian bicycle racing components. Campagnolo shifters, cranks, derailleurs, brakes, hubs and headsets were installed as original equipment on Bianchi racing machines the past several decades. Many low-end Bianchi cycles are equipped with less costly components from Shimano, a large Japanese bicycle component and fishing reel manufacturer.
Bianchi Dealer Assistance
Many bicycle shops have existed for some time, and most bicycle shops loyally sell the same brand for many years. Bianchi dealers are excellent stores of information about old or classic Bianchi bicycles. Many dealers keep archives of the catalogs most bicycle manufacturing companies release every year. The information in these books may prove invaluable to a person trying to track down an exact Bianchi model name and year.
Possible Serial Number Identification
Several bicycle manufacturers, including Bianchi, use serial number identification and have done so for many years. Most companies press a series of numbers and letters in the metal surface on the bottom of the bicycle bottom bracket shell. Some bicycles have numbers pressed into the inner surface of one of the rear frame dropouts. Contacting Bianchi with the serial number of the bicycle may allow for model or year identification.
F.I.V. E. Bianchi S.p.A. Via delle Battaglie, 5 24047 Treviglio (BG) Italy 39-0363-3161 bianchu@bianchi.com
References
Writer Bio
Jonathan D. Septer offers more than a decade of professional writing experience and owns/operates Bone Machine Books in Kent, Ohio. A professional bicycle mechanic with more than ten years experience at various Midwestern shops, Septer studied at Kent State University, where he earned his Bachelor of Arts in English.