List of Workouts to Become Explosive for Football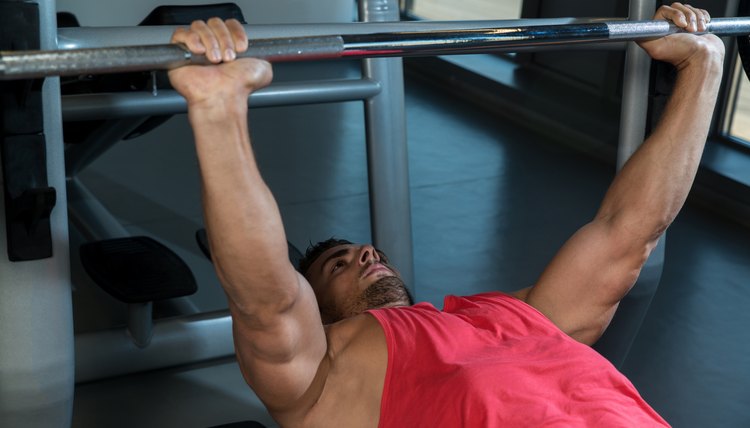 Football is a game of fairly brief plays, some of which only take a few seconds to complete. With only an occasional exception, the competitors begin each play from a standing start, so explosive power is a key to success. Explosive power helps receivers burst off the line of scrimmage, and allows defenders to push blockers aside before the offensive player can counter the move.
Plyometric Workouts
Plyometric exercises are specifically designed to boost your explosive power, so they deserve a place in any football player's workout routine. Do exercises such as box or depth jumps, single-leg jumps, hurdle hops and medicine-ball throws. To perform a stand-alone plyometrics workout, select three to five exercises and do a total of 120 to 140 repetitions. Perform plyometric workouts four times each week, but don't train the same muscles on consecutive days. If you do jumps on one day, for example, you can perform upper-body plyometric activities the next day.
Strength Training
Performing standard resistance exercises such as squats, deadlifts and bench presses add strength that can help you build explosive power. To develop explosive strength more directly, do the standard exercises at a fast pace, or perform activities such as box or bottom-up squats, kettlebell swings and asterisk lunges, in which you lunge quickly in different directions while holding dumbbells. Perform two to five exercises per workout, two or three days each week, with at least one day of rest between workouts.
Agility Drill Workouts
To improve your ability to change directions and accelerate explosively, perform four or five agility drills, such as running back and forth between cones set up in various shapes. For example, set up four cones in a square, 5 yards apart. Run straight from the first cone to the second, run laterally to your right to the third cone, backpedal to the fourth cone and then run laterally to the left, to the first cone. Do the workout twice each week.
Hill Training
Hill running is a functional exercise that builds lower-body strength. Sprint up a short hill -- roughly a 50-yard distance -- as fast as possible, eight to 10 times. Conclude the workout with two or three explosive, standing starts on level ground. Do the workout two or three times per week, but not on consecutive days.
References
Writer Bio
M.L. Rose has worked as a print and online journalist for more than 20 years. He has contributed to a variety of national and local publications, specializing in sports writing. Rose holds a B.A. in communications.