The Top 10 Rowing Machines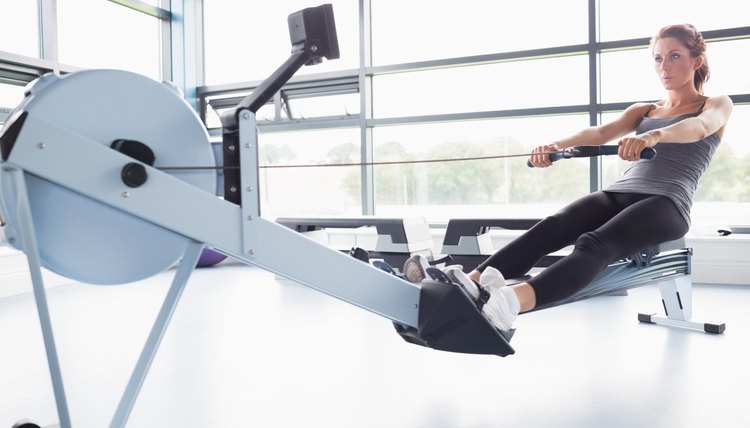 The best rowing machines demonstrate versatility by helping people train for cardiovascular gains, aerobic endurance, muscular endurance, muscular power and sport-specific movements. Many good rowing machines are affordable enough to be included in your home gym. So, which rower is the best to own and use? The design, function and cost are examples of attributes that should be considered when examining rowers to use and purchase.
Top in Reliability
Concept 2 is one of the most trusted brands in the rowing industry. The company started with owners who were trying to develop a piece of equipment that would help them train for the Olympic rowing team. They didn't make the team, but they started a very successful company. The company started in 1975, and they built their first rowing machine in 1981. The frames of the Model D and E are sturdy, the adapter is battery-powered and requires no plug-in, the programs are easily navigable and have proven to last several years even when used intensely.
Best Buy
The Stamina Body Trac Glider is the most affordable and trusted name-brand rowing machine. It costs $150 at Amazon.
Top in Space Efficiency
The Stamina 1205 and 1215 Precision Rowers are both only 47 lbs. They take up an area that is approximately 2 1/2 ft. wide and 4 ft. long. These are piston rowers in design, which while being affordable and small, do not allow a very natural rowing motion and mainly work the arms more than the entire body.
Top in Durability
The Concept 2 Model D and E support a stainless-steel track with an aluminum rail. The uni-directional clutch allows freedom of movement in any way the handles are pulled so that the cord does not get damaged. The frame can support up to 500 lbs. There have been five models of Concept 2 rowers to date, and you can still find some of the Model B's in health facilities, gyms, schools and home gyms.
Top in Electronic Capabilities
In most features and accessories, the LifeCore LCR 100 Premier Rower takes the top place. It has a heart-rate control feature, three heart-rate training programs that provide feedback, a recovery program that tests and monitors you 60 seconds past exercise completion and gives you biofeedback. There are 15 preset fitness programs to train with as well.
In terms of innovation, the Concept 2 rower with a PM4 monitor has the ability to sync up with other Concept 2 rowers with PM4 monitors to compete with one another. It also has games to play that are tied in with exercise to make the workout fun and interesting.
Top in Sport Specificity
This category holds a tie in two rowers that are considered "water rowers," which actually contain a tank of water in which the resistance is applied. This gives the most natural rowing feel. They are the First Degree Fitness Fluid Rower, and the Water Rower Oxbridge. They are available for residential purchase if you are willing to spend a little more money compared to other rowing machines.
Top in Warranty
The LifeCore Fitness LCR100 APM Premier Rower features a lifetime warranty on the frame, and a five-year warranty on parts and accessories for people who purchased the rower for residential use. If you bought the rower for commercial use, you will be granted a two-year warranty on parts.
Top in Range of Resistance
First, the LifeCore Fitness LCR100 APM Premier Rower features up to 16 levels of magnetic resistance, which simulates rowing intensity from a light boat to a heavy boat.
Also, any water-simulating rower provides a great amount of variability in resistance as the device reacts to your tempo, speed, pace and power to dictate the resistance.
Top in Comfort
The Schwinn Windrigger is the top of the line for comfort. The Schwinn Windrigger provides a recumbent seat that allows the rower to recline during the drive and the fan wheel blows cool air toward the rower. It is one of the quietest rowers on the market, and its clutch allows for very smooth, easy movements through the drive and pull.
Overall Best
The overall best rowing machine is probably the Concept 2 air-flow rower. Model D and E both provide many features and are some of the most affordable top-of-the-line rowers. Concept 2 rowers have been around for a while and are also some of the most easily attainable. They are designed for non-rowing athletes and rowing athletes alike, have a five-year warranty and are space efficient.
The features that the Concept 2 rower possesses include multiple data charts, pace charts, rowing games, customizable events, heart rate monitor attachments and the ability to link up to another Concept 2 to simulate a race with one another. The model D and E are both designed for any individual wishing to exercise with a rowing machine, not just rowing athletes. The models can be separated into two pieces in seconds for convenient storage, can be pivoted around easily on a wheel and can be placed upright for storage as well.
The prices range from $900 to $1,260 U.S. in November 2021.
References
Writer Bio
Daniel Bradley is a health, fitness, sport and nutrition expert in Philadelphia, Pa. He began writing professionally in 2007 and has contributed to the Mid-Atlantic American College of Sports Medicine Chapter's Research Panel. Bradley is a certified ACSM Health Fitness Specialist and an outdoor fitness instructor. He holds a Bachelor of Science in exercise science with a physical therapy concentration from West Chester University.