Shimano 105 Vs. Campagnolo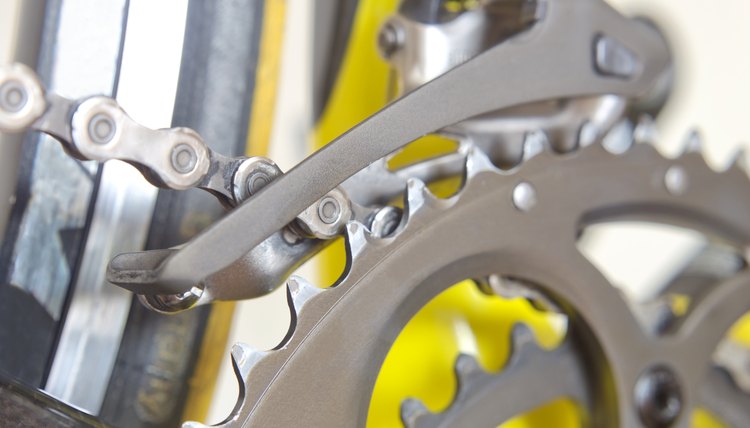 Shimano and Campagnolo are both giants in the cycling world, and when it's time to upgrade or refurbish your bike, it can be difficult to choose between the two for your components. The Campagnolo Veloce groupset is the company's most comparable line to the Shimano 105 in terms of performance; both companies offer either a stainless or carbon black finish.
Shifters/Brakes
Both companies promise ergonomic shifting, positioning the levers closer to the bar for easier reach, but the Shimano levers are further customizable through a series of shims, according to the company's website. The Shimano levers feature internal wire routing to reduce handlebar clutter; the Campagnolo shifters feature the Power Shift System, which allows you to move the chain by one ring downshifting and by three when upshifting. Both companies offer fully adjustable brakes, the Shimano by way of a toe-in, Campagnolo via an orbital brake pad. Shimano claims to offer double the wet-weather braking potential.
Cranksets/Casette Sprockets
The Shimano 105 cranksets include Hollowtech II design, which, Shimano's website explains, eliminated dead weight without sacrificing stiffness. The company's Dual SIS front index shifting provides instant response, and the spacing between inner and outer chain rings has been increased to reduce the possibility of interference. Campagnolo's cranksets also balance lightness with stiffness, and have been engineered to increase power transfer efficiency. The company has re-tooled the upper portion of the chain and the sprocket teeth to work in a more fluid, synchronized fashion, it reports on its website. Similarly, the Shimano cassettes feature Hyperglide ramps for fluidity and the company's trademark authoritative shift.
Derailleurs
The Shimano 105 front derailleur includes a wide inner link to move the chain more efficiently, and an updated chain guide that increases efficiency while reducing wear. The rear derailleurs are 10-speed, incorporate the same wide-link technology and are available in either short or medium cages for all three configurations. Campagnolo has lightened the front derailleur to 98 grams, and can accommodate only traditional and compact set-ups. The rear derailleur is also lighter and stiffer with an oversized outer plate for structure and an anti-corrosion coating. The Veloce is available in 11-speed.
Pedals/Chain
Campagnolo claims that superior machining techniques result in a silent chain that won't lose traction at connection points. Shimano's concern with the 105 was to enhance difficult shifts — notably, inward shift in the back and outward shift in the front. An asymmetrical chain jumps between rings more efficiently. The Shimano 105 pedals feature a sealed axle unit that requires less maintenance and a wide platform for better transfer of power from the stainless steel body. Campagnolo does not include pedals with its groupsets.
References
Writer Bio
Angela Brady has been writing since 1997. Currently transitioning to a research career in oncolytic virology, she has won awards for her work related to genomics, proteomics, and biotechnology. She is also an authority on sustainable design, having studied, practiced and written extensively on the subject.