Life Fitness 4000 Treadmill Specs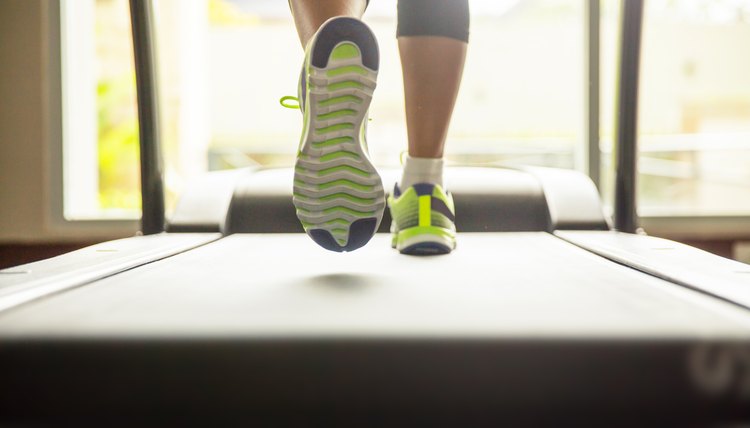 The LifeFitness 4000, an older treadmill model sold by Illinois-based LifeFitness, was originally in production around 1998. You can no longer purchase this treadmill new. Used machines are for sale online by private owners. This motorized, in-home treadmill with an automatic incline offers basic features for walkers but not a lot of power if you are a runner.
Specifications
The LifeFitness 4000 is 69 inches long, 31.5 inches wide and 46 inches tall. The machine weighs 159 lbs. The frame is black with a white hood cover and console. The LifeFitness 4000 has a maximum user capacity of 250 lbs.
Deck and Motor
The walking belt on the 4000, at 52 inches long by 17 inches wide, is adequate for walkers. Treadmill-ratings-reviews.com recommends at least a 20-inch wide belt for joggers and runners. The LifeFitness 4000 has a DC 1.5 continuous horsepower motor. Treadmill-ratings-reviews.com suggests a more powerful 2.5 to 3.0 continuous horsepower motor for joggers and runners. Even for walking, the website recommends a 2.0 horsepower motor.
Console Specifications
The console on the LifeFitness 4000 provides basic workout information. The display shows the elapsed time, speed, calories, calories per hour, miles and the incline level. You can control the speed and incline settings with the buttons on the console. A "Quick Start" button allows you to instantly start your workout. The belt begins moving at 0.5 mph. The 4000 offers two built-in workout profiles. The random profile is a series of varying elevations that occur randomly. The hill profile is a combination of hills and valleys. The fit test allows you to measure your aerobic fitness compared to others of your age and sex.
Features
The LifeFitness 4000 treadmill offers two adjustable factors to increase the intensity of your workout. The speed is adjustable between 0.5 and 10 mph in 0.1 mph increments. The automatic incline feature offers a second way of increasing the difficulty of your workout. The deck inclines up to a 12 percent grade. You can adjust the incline in 0.5 percent increments.
Writer Bio
Based in Austin, Texas, Jolie Johnson has been in the fitness industry for over 12 years and has been writing fitness-related articles since 2008 for various websites. She received her Bachelor of Arts in English and philosophy from the University of Illinois.