The Best Bib Shorts for Long Distance Cycling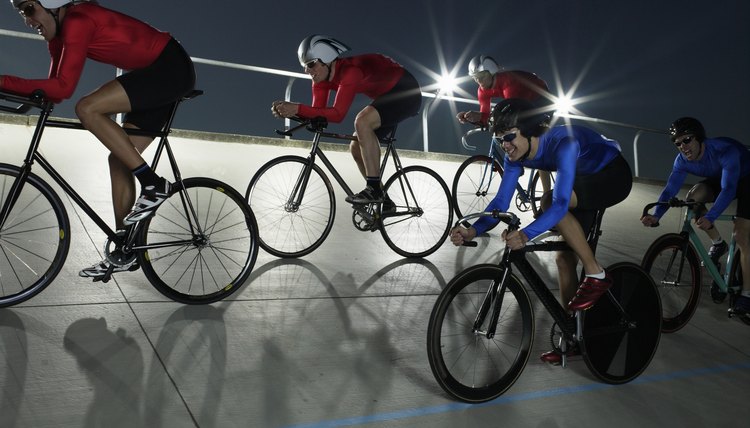 What to Look For
Comfort is king for long bike rides and bib shorts. The fit of the shorts should support the upper leg muscles, and the bib straps, or braces, should keep the shorts in place and feel snug. The fabric needs to be durable and last against wear and washing. Common fabrics used include polyamide, polyester and spandex. The chamois, which is a patch of material in the crotch to prevent chafing from repetitive movement during bicycling, should be thick and well shaped without any kind of bulkiness. Extras like MP3 or cell phone pockets can make your ride safer and more enjoyable. Some examples of top-of-the-line bib shorts are the Rapha Bib Shorts, the Assos F1 Uno S5 and the Louis Garneau Equipe Bibs.
Common Pitfalls
How the bib shorts fit is a common concern. For long rides, you don't want anything that can cause irritation. Look out for a bulky chamois and bib straps that rub or don't fit well. The chamois is there to prevent chafing, and should be made of good synthetic material and cut to fit you well. Some high-end cycling clothing can get holes and tears very easily. You want to find shorts that will hold up after multiple washes and constant wear.
Where to Buy
You can purchase bib shorts at bike shops, directly from the manufacturer and online. Check with online bicycle retailers such as REI.com, Bike Nashbar, Competitivecyclist.com and Performance Bicycle. There are other online retailers, such as Amazon.com, that often carry cycling apparel as well. For a list of certified distributors near you, you can check with the manufacturer's website by using the "Dealer Search."
Cost
Most top-of-the-line bib shorts cost close to $200. The Louis Garneau Equipe Bibs retail for $150 and the Rapha Bib Shorts cost $210. There are some other bib shorts that can retail for almost $400, such as the Assos T FI.13 S5 Bibs. Of course, the price will vary depending on retailer.
References
Writer Bio
Aaron Smith has been writing since 2003 and has been published in a number of articles including recent works for "Jefferson City Magazine." After switching majors his junior year in college, he decided to obtain a Master of Fine Arts in creative writing from National University.