Comparison of Life Fitness & Precor Treadmills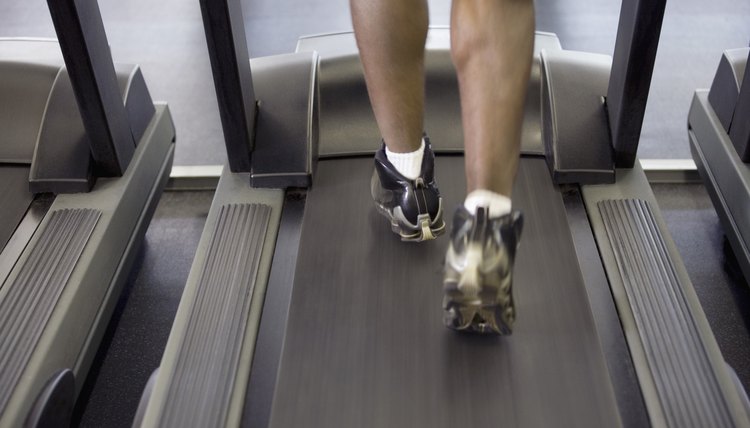 Both Precor and Life Fitness produce sturdy, well-featured treadmills designed to handle vigorous home use, as well as commercial models that can endure constant use. If a particular feature is important to you, such as touch screen technology, choosing between these brands will be easy. Otherwise, with no clear winner between the two models on standard merits such as motor power and running surface size, prepare to choose based on intangible factors such as quality of customer service, or on simply which treadmill gives you the features you want at the best price.
Motor
Precor home treadmills all have 3.0 horsepower continuous-duty motors. Commercial models have 4.0 horsepower motors. Precor treadmills offer a maximum speed of 12 mph except for the 966i and 956i Experience commercial treadmills, which have an unusually high top speed of 16 mph. Life Fitness treadmill motors range from 3.0 to 4.0 continuous-duty horsepower. Home-model Life Fitness treadmills have a maximum speed of 12 mph except for the F3, which tops out at 10 mph. Commercial-use Life Fitness treadmills have maximum speeds between 10 and 16 mph.
Incline/Decline
Precor treadmills adjust between 0 and 15 percent inclines except for the 966i Experience commercial model, which can provide a 3 percent decline, and the home-use 9.35, which offers a 2 percent decline. Life Fitness treadmills adjust between 0 and 15 percent inclines except for the commercial 97Ti, which is also capable of providing a 3 percent decline, and the home-use F3, which adjusts between 0 and 12 percent incline.
Running Surface
Precor running surfaces range between 56 and 60 inches long and 20 to 22 inches wide. Life Fitness treadmill running surfaces are all 60 inches long and between 20 and 22 inches wide, except for the folding F3 home model, which has a 20 inch-by-55-inch running surface.
Features
Both Precor and Life Fitness treadmills offer a fairly standard range of features for well-built treadmills, including wireless heart-rate straps that activate heart-rate control programs. They also offer multiple user profiles and user-customized workouts, plus iPod-compatible speakers, video screens and chargers. Standout Precor features include a CSAFE interface that allows your treadmill to communicate with other fitness systems such as Fitlinxx and Cardio Theater, plus optional ergonomically integrated video screens. Standout features on Life Fitness models include touch screen displays and the Life Fitness Virtual Trainer, an online service for creating and tracking custom workouts.
Cost
As of May 2010, Precor treadmills cost from about $2,600 to over $5,000. Life Fitness treadmills range from about $2,500 to $8,000 or more, depending on model and features selected.