Calisthenics & Circuit Training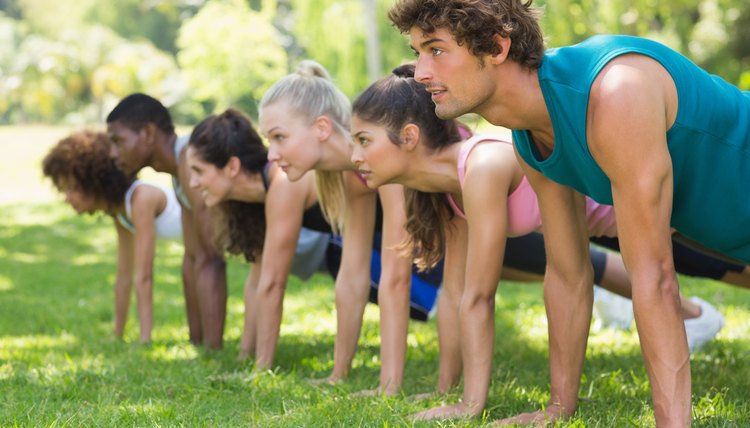 Calisthenics and circuit training offer exercise options when many fitness trainers are cutting back on their expenses to run their practice. With proper instructions and execution, calisthenic training can be more beneficial than traditional weight training because it engages your entire body and teaches you proper weight shifting and movement control without using weights, explains Juan Carlos Santana, director of the Institute of Human Performance.
Definition
Although most calisthenics do not require any equipment, some exercises require props for you to perform such as aerobic step boxes and a pullup bar, according to physical therapist Gray Cook, co-author of "Kettlebells from the Ground Up." Circuit training is performing a series of exercises without rest between sets. The sets are done for a predetermined number of repetitions or for a specified amount of time.
Benefits
Circuit training using calisthenic exercises improves muscular endurance and stamina, saves your workout time and burns plenty of calories. It alleviates boredom for those who are looking for a challenge in their workouts. You do not need a gym or a lot of space to train. If you are on a budget or if you operate a personal training business and would like to save some money, calisthenic circuit training can be an option for you.
Sample Workout
Perform each calisthenic exercise for 30 seconds each then move immediately to the next exercise -- pushups, pullups, squats, jump rope, lunges and squat jumps. Rest for one minute after each circuit then repeat the circuit two more times. Shorten the duration of each exercise by five to 10 seconds if you get fatigued quickly during the circuit. Increase the duration of each exercise by five to 10 seconds if you can do the circuit easily.
Warning
Check with your physician or a qualified health care professional before starting any circuit training program, because it can be risky for those who have cardiovascular, pulmonary or metabolic diseases, joint pain and neuromuscular diseases.
References
Kettlebells From the Ground Up; Gray Cook, et al.
Essence of Program Design; Juan Carlos Santana
Wilke J, Kaiser S, Niederer D, et al. Effects of high-intensity functional circuit training on motor function and sport motivation in healthy, inactive adults. Scand J Med Sci Sports. 2019;29(1):144-153. doi:10.1111/sms.13313
Feito Y, Heinrich KM, Butcher SJ, Poston WSC. High-Intensity Functional Training (HIFT): Definition and Research Implications for Improved Fitness. Sports (Basel). 2018;6(3):76. doi:10.3390/sports6030076
Cardozo DC, DE Salles BF, Mannarino P, et al. The Effect of Exercise Order in Circuit Training on Muscular Strength and Functional Fitness in Older Women. Int J Exerc Sci. 2019;12(4):657-665.
Mayorga-Vega D, Viciana J, Cocca A. Effects of a Circuit Training Program on Muscular and Cardiovascular Endurance and their Maintenance in Schoolchildren. J Hum Kinet. 2013;37(1):153-160. doi:10.2478/hukin-2013-0036
McGlory C, Devries MC, Phillips SM. Skeletal muscle and resistance exercise training; the role of protein synthesis in recovery and remodeling. J Appl Physiol (1985). 2017;122(3):541-548. doi:10.1152/japplphysiol.00613.2016
Shaw BS, Shaw I. Compatibility of concurrent aerobic and resistance training on maximal aerobic capacity in sedentary males. Cardiovasc J Afr. 2009;20(2):104-106.
Chiara M, Chamari K, Chaouachi M, Chaouachi A, Koubaa D, Feki Y, Millet GP, Amri M. Effects of intra-session concurrent endurance and strength training sequence on aerobic performance and capacity. British Journal of Sports Medicine. 2005 Aug; 39 (8):555-60.
Fleck SJ and Kraemer WJ. (2004) Designing Resistance Training Programs: 3rd Edition. Champaign, IL: Human Kinetics.
Gettman LR, Pollock ML. Circuit weight training: a critical review of its physiological benefits. The Physician and Sports Medicine. 1981 9:44-60.
Glowacki SP, Martin SE, Maurer A, Baek W, Green JS, Crouse SF. Effects of resistance, endurance, and concurrent exercise on training outcomes in men. Medicine and Science in Sports and Exercise. 2004 Dec; 36 (12):2119-27.
Writer Bio
Nick Ng has been writing fitness articles since 2003, focusing on injury prevention and exercise strategies. He has covered health for "MiaBella" magazine. Ng received his Bachelor of Arts in communications from San Diego State University in 2001 and has been a certified fitness coach with the National Academy of Sports Medicine since 2002.