A Description of Proform 1200 Treadmills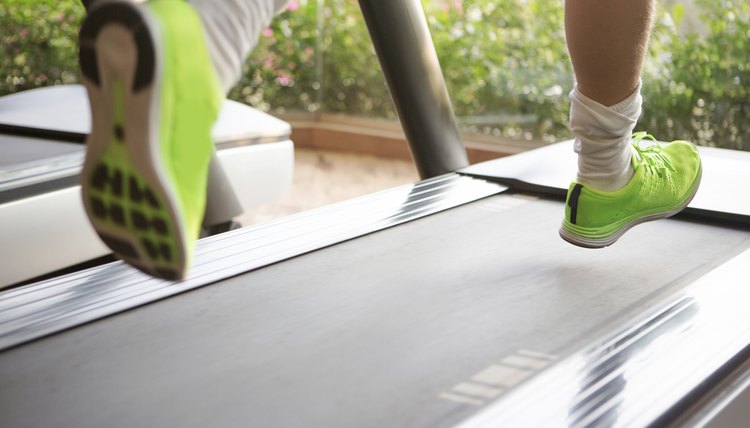 Proform is a brand name for sports equipment from Icon Health and Fitness. The 1200 series covers both elliptical and treadmill machines. In the treadmill line, there were a number of devices under the 1200 group including the 5 Star Interactive and 1200ZLT models. Selecting the right treadmill can help make your workout more effective and either machine may meet your needs. Talk to your doctor before selecting a treadmill to ensure that exercise is safe for you.
About Proform
Proform is a company with a reputation for creating innovative treadmills, including the 1200 series. The company website reports that Proform developed the fold-away design that makes treadmills more practical for home use. Review website Treadmill Doctor explains that Icon has more than 200 engineers who help design these products. The 1200 line of treadmills are motorized units with main components made overseas, according the Treadmill Doctor.
Common Features
The Proform 1200 treadmills have some features found in all the models. The 1200s all are motorized units, however, the size of the drive motor may vary per model. They have power incline capacity and computer displays that offer readings, such as heart rate and distance. The computer systems are advanced in many of the units to include music ports and pre-programmed iFit interactive exercise routines, as well.
5 Star Interactive Trainer
The 5 Star name stands for five essential fitness elements that promises a complete system for weight loss. The elements include cardio, strength, personal training, meal planning and nutritional support. Purchase of the treadmill includes documentation and support information to help manage your diet and create a complete program. Features of the 5 Star include a 2.0 horsepower motor, one-button intensity adjustments, Grip Pulse Sensor and built-in iFit technology with eight preset programs. The machine has a disc player and speaker system on the console.
Proform 1200ZLT
The Proform 1200ZLT has some of the same features as the 5 Star Interactive Trainers, but offers a more powerful motor system. The 120ZLT has a 2.25 horsepower drive motor as opposed to the 2.0 found on the 5 Star. Other features include a maximum speed of 20 kph, a wide and cushioned deck, two speakers and MP3 port plus16 pre-programmed iFit workouts. Just like the other 1200, the ZLT offers cooling fans and a fold away design.
References
Writer Bio
Writing since 1999, Darla Ferrara is an award-winning author who specializes in health, diet, fitness and computer technology. She has been published in "Mezzo Magazine" and Diet Spotlight, as well as various online magazines. Ferrara studied biology and emergency medical technology at the University of Nebraska and Southeast Community College.