Sole Vs. NordicTrack Elliptical Machines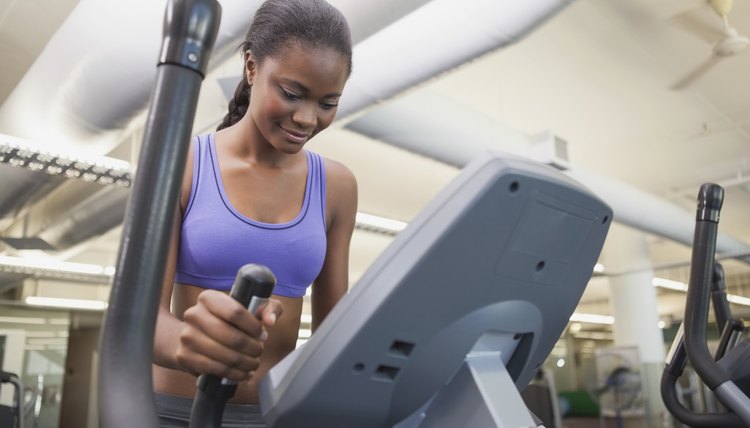 Both NordicTrack and Sole offer high-quality elliptical trainers that are considered to be among the best you can buy. As All Ellipticals notes, NordicTrack is the more established name -- the company introduced a popular line of ski machines in the 1980s before branching out into elliptical trainers. Sole initially sold high-end treadmills to hotel chains before adding elliptical machines to its lineup. NordicTrack and Sole each have introduced technological innovations praised by independent review sites.
Unique Features
NordicTrack is the first company to introduce elliptical machines with decline as well as incline options. According to Elliptical Trainer Review, the decline options give you a better cross training workout and help prevent over training. Sole's claims to fame include a longer 20-inch stride on all of it's machines, as opposed to the 14- to 16-inch stride on most machines. The longer stride enables you to work leg muscles more effectively. It also feels more comfortable for many people, although those under 5 feet 2 inches might prefer the shorter stride on NordicTrack ellipticals. In addition, Sole is known for its specially engineered and properly aligned footpads, which can reduce stress on your joints.
Other Comparisons
You can find NordicTrack ellipticals for around $800 as of 2014. Sole models start around $1,000. According to All Ellipticals, NordicTrack machines boast excellent display screens and Sole machines feature high-quality heart monitors. Sole draws particular praise from independent experts for the warranty on all of its models. It offers a lifetime warranty on the frame, five years on parts and electronics and two years on service. Elliptical Trainer Review states, "this is one of the best elliptical warranties in the business and tells you something about the quality of construction."
References
Writer Bio
Jim Thomas has been a freelance writer since 1978. He wrote a book about professional golfers and has written magazine articles about sports, politics, legal issues, travel and business for national and Northwest publications. He received a Juris Doctor from Duke Law School and a Bachelor of Science in political science from Whitman College.