About Gold's Gym 450 Treadmill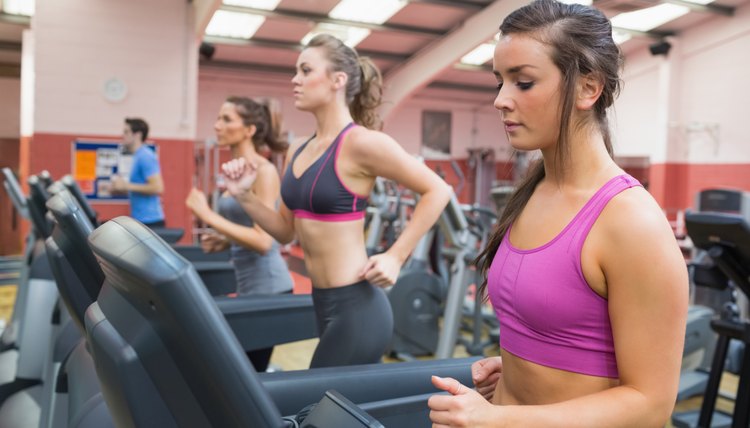 Gold's Gym has been a fitness industry leader since the original facility was opened in Venice Beach, California, in 1965. According to the Exercise Equipment Expert Review Journal, Gold's Gym home exercise equipment does not meet "club level quality," but does offer an affordable and functional line of entry-level machines. Among these machines is the 450 Treadmill.
Function
The Gold's Gym 450 Treadmill is an entry-level treadmill that is designed mostly for walking and light jogging exercise. Because of its smaller size and maximum-rated 2.5 horsepower engine, the 450 Treadmill is not well-suited to running routines or having multiple users exercise on it regularly.
Features
The treadmill's electronic workout console displays the time, distance covered, speed, calories burned and heart rate reached for each workout. You are able to select one of the machine's six preprogrammed workout routines or enter your weight, workout time and desired calories burned to have the machine produce a customized workout.
This machine also has an incline feature to increase the difficulty of the workout, a built-in cooling fan and a grip pulse monitor. The walking surface of the machine folds up and can be clamped to the handlebar for storage when not in use. Built-in wheels at the base of the treadmill make movement easy, even on carpeted surfaces.
Size
The exercising surface of the 450 Treadmill measures 18 inches wide by 50 inches long. While this area size is sufficient for walking, some reviewers of the treadmill claim that it is too short for longer strides when running or for tall persons. The console height and uprights of the treadmill are nonadjustable; taller users may have to rest their arms in a slightly less comfortable position than desired when working out.
Considerations
As of September 2010, the 450 Treadmill is priced at less than $400. This makes it an affordable treadmill. However, it is made from less durable parts than equipment in the $1,000 to $1,500 price range and comes with a limited five-year warranty on the motor. All other parts on the machine are guaranteed only for 90 days, causing several reviewers to question the reliability of the machine.
Potential
The Gold's Gym 450 Treadmill is rated only for users up to 275 lbs. and is not designed for intense running routines. If you are looking for a light workout that is largely walking-based while staying within your budget, the 450 Treadmill may suit your needs. However, the limited warranty and functionality of the machine have proven to be a turnoff for users that want a lasting piece of equipment that can challenge them as their fitness level rises.
References
Writer Bio
Writing professionally since 2005, Ryan Haas specializes in sports, politics and music. His work has appeared in "The Journal-Standard," SKNVibes and trackalerts. Haas holds a Bachelor of Arts in English and creative writing from the University of Illinois.