Tension Problems With the NordicTrack A.C.T. Elliptical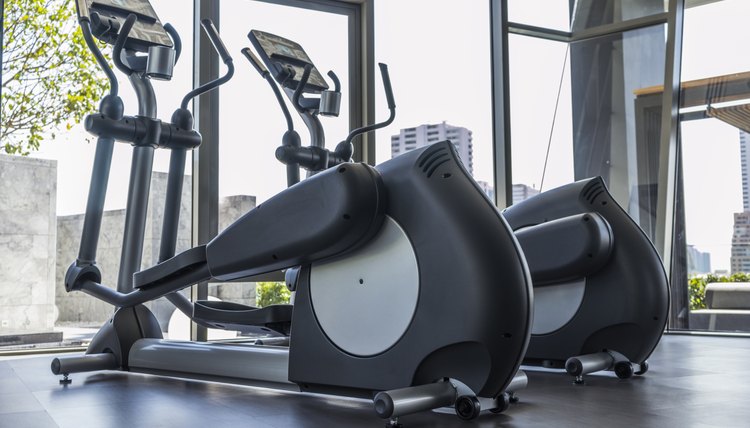 The A.C.T by NordicTrack (nordictrack.com) is a center-drive, compact elliptical machine for in-home use. It offers 20 pedal resistance levels that you adjust with control buttons on the console. Problems with the tension of the pedals can be caused by an electronic malfunction or the drive belt slipping, among other causes.
Drive Belt
If the pedals slip, even when set on the highest resistance, you need to adjust the drive belt on your A.C.T. elliptical. The drive belt is on the right side of the machine. It is a large band that encircles the flywheel on one end and the crank spindle on the other end. NordicTrack provides instructions for adjusting the drive belt in the owner's manual. You will need to remove the shields on the right side of the machine and tighten the drive belt adjustment screw.
Electronics Problem
You control the tension of the pedals using the buttons on the console. When you assemble the A.C.T. elliptical, you have to thread a group of wires from the console through the upright down to the electronics board. These wires communicate the resistance settings to the electronics board. If the wires twist, disconnect or break, the resistance will not work. You will need to reconnect or replace the wires.
Warranty
The NordicTrack A.C.T elliptical has a lifetime warranty on the frame and a 10-year warranty on the brake. NordicTrack offers a 1-year warranty on parts and labor for the original A.C.T. model. The newer, A.C.T. Pro, has a 5-year warranty on parts and a 2-year warranty on labor. If your machine is still under warranty, do not attempt to repair the pedal tension yourself as you may void your warranty. Contact NordicTrack for assistance.
Contact
NordicTrack provides a 30-day trial period on its products. If the pedal tension failed within the first 30 days, contact NordicTrack at 866-896-9777 for an exchange or return. To speak to a service technician about repairing your A.C.T. elliptical, call 877-993-7999 or contact NordicTrack service via email at service@iconfitness.com. You can also fill out the email service form on the NordicTrack website. A link is provided in the resources section.
References
Resources
Writer Bio
Based in Austin, Texas, Jolie Johnson has been in the fitness industry for over 12 years and has been writing fitness-related articles since 2008 for various websites. She received her Bachelor of Arts in English and philosophy from the University of Illinois.