What does fact checked mean?
At SportsRec, we strive to deliver objective content that is accurate and up-to-date. Our team periodically reviews articles in order to ensure content quality. The sources cited below consist of evidence from peer-reviewed journals, prominent medical organizations, academic associations, and government data.
The information contained on this site is for informational purposes only, and should not be used as a substitute for the advice of a professional health care provider. Please check with the appropriate physician regarding health questions and concerns. Although we strive to deliver accurate and up-to-date information, no guarantee to that effect is made.
Sportek EE220 Elliptical Exercise Machine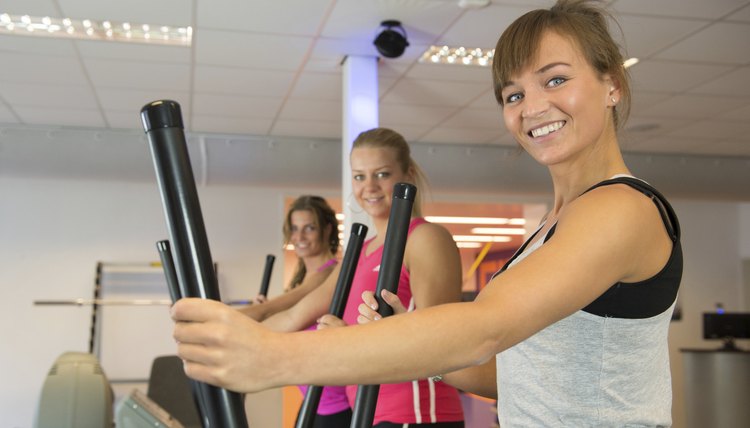 Cardio exercise is just as important as weight lifting. While weight lifting works muscles like those in your arms, abs and legs, cardio activity works your heart and lung muscles. When you perform cardio, you improve your circulation, oxygen levels, endurance and so much more. An elliptical trainer is an appropriate machine to use to incorporate cardio into your workout routines at home or in the gym.
Elliptical Trainers
Elliptical machines are generally considered low impact. They are similar to treadmills but have independent foot pedals so that you run with the machine, instead of on it. Ellipticals also have movable arms that allow you to work out your upper and lower body at the same time. If used properly, elliptical machines are easier on joints such as ankles, knees and hips, which results in less pain and overall soreness. Most elliptical trainers allow you to pedal backwards, broadening the muscle groups you can work out during an exercise session.
Sportek EE220 Elliptical
The Sportek EE220 elliptical trainer is a magnetic-resistance elliptical machine. A hand pulse monitor and odometer are located on each of the movable arms, which allows you keep track of distance covered, heart rate, speed and calories burned. A LCD monitor displays numbers and stats to help you with your fitness goals. The magnetic resistance helps to creates consistent workouts and quiet, smooth movements.
Safety Tips
With any exercise comes the risk of injury, and machines are no exception. When you use your elliptical trainer, ensure that your posture is straight and that you engage your abdominal muscles to keep your balance. You can also use the arms for added support. Adjust the handle bars so that you are not overreaching when you move. If you are bending over to keep hold of the arms, they are too far away and should be adjusted. Start at the lowest incline and resistance and work your way up to ensure that you do not push your body to the point of injury. Always wait until the trainer comes to a complete stop before getting off your elliptical.
Benefits of Elliptical Machines
By choosing an elliptical machine over walking outside or running on a treadmill, you will alleviate the stress on your joints and back but still achieve a healthy cardio workout. Ellipticals allow you to work your calves, thighs, gluteus maximus, core and arm muscles with a very low-impact routine. You will burn more calories during a cardio session than you will a weight-lifting session, and an elliptical machine incorporates both concepts for a maximum workout experience.
References
Writer Bio
AJ Carpenter has a bachelor's degree in P=physical education and a master's in Journalism from Missouri State University. He has written for various publications on topics ranging from health and fitness to education and gardening.