What does fact checked mean?
At SportsRec, we strive to deliver objective content that is accurate and up-to-date. Our team periodically reviews articles in order to ensure content quality. The sources cited below consist of evidence from peer-reviewed journals, prominent medical organizations, academic associations, and government data.
The information contained on this site is for informational purposes only, and should not be used as a substitute for the advice of a professional health care provider. Please check with the appropriate physician regarding health questions and concerns. Although we strive to deliver accurate and up-to-date information, no guarantee to that effect is made.
How to Get a Tighter Chest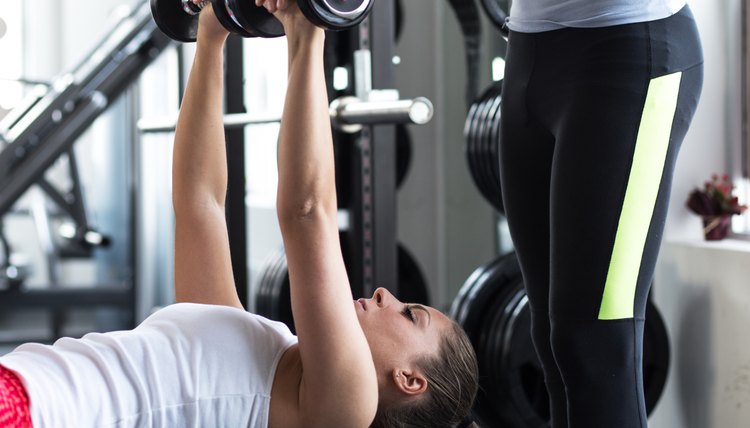 A tight, developed chest projects an appearance of strength and confidence. Obtaining a well-defined chest requires following consistent weight training, aerobic and diet programs. These three components work in unison to build lean muscle and burn excess chest fat. Learning how to develop your pectoral muscles while burning excess fat prepares you for your perfect-chest journey. Always speak with your physician before beginning an exercise and diet program.
Add a dumbbell chest press to your weight training routine. Get into the starting position by sitting on a flat bench with your dumbbells on your thighs, then slowly lean back into a reclining position. In the lying position, move your dumbbells to the side of your chest while keeping a 90-degree elbow angle. Lift the weights over your chest until you reach a full extension with your arms. Squeeze your chest muscles at the top of the movement. Slowly lower your weights until you reach the starting position and repeat until you achieve muscle fatigue.
Perform the incline barbell bench press to develop the upper portion of your pectoral muscles. Lie on an incline bench and position your hands using a shoulder-width distance. Lift the barbell off the rack and slowly lower until you reach a 90-degree elbow bend. Lift the bar until you reach full-arm extension while exhaling throughout the entire lifting movement. Continue this exercise until complete muscular failure occurs. Muscular failure refers to the inability for working muscles to continue another repetition during an exercise.
Perform a weekly minimum of three 30-minute aerobic training sessions to promote fat loss. Aerobic exercise provides a method for calorie burn, which translates to losing fat all over and around your chest area.
Pay attention to your calorie intake and quality. A diet that promotes fat loss and muscle development should consist of lean proteins like turkey, chicken or fish and slow-delivering carbohydrate sources like green vegetables and whole grains. Pay attention to your daily calorie consumption. Since 1 pound equals 3,500 calories, a daily deficit of 500 calories creates a 1-pound weekly weight loss rate. Losing weight assists in shedding excess chest fat to tighten your pecs.
Tips
Allow at least one recovery day between your weight training sessions.
Warnings
Use a spotter when performing chest press exercises to ensure safety.
References
Writer Bio
Craig Smith covers weight loss and exercise programming for various online publications. He has been a personal trainer certified through the American Council on Exercise since 2001. Smith also holds a diploma in exercise physiology and kinesiology from the National Personal Training Institute.