How to Adjust the Treadmill Belt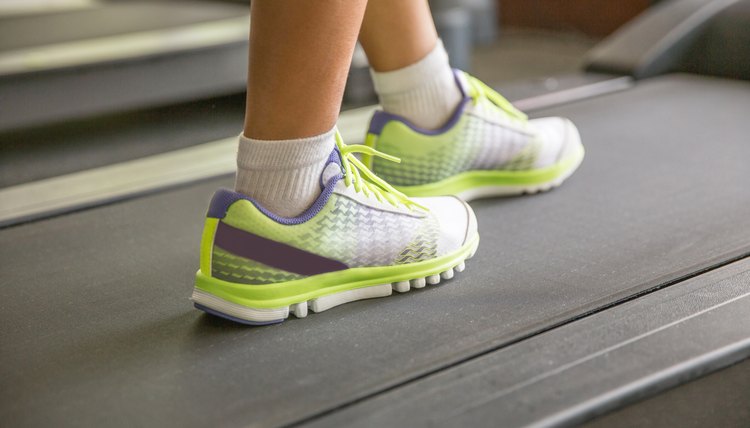 A part of maintaining your treadmill is adjusting the belt of the machine. When your belt becomes off track or loose, it can adversely affect your workout. Your alignment while running may be off or you could lose your balance if the belt does not have full tension. To adjust the belt of your treadmill, you will need an Allen wrench. Most treadmill manufacturers include an Allen wrench that fits your machine with the original packaging.
Test the treadmill belt to see if it requires adjustment. Walk at the lowest speed setting to monitor if the belt slips. The belt should be tight enough that you are able to walk without slipping. You may notice grooves or ridges if the belt is too loose. Watch your feet to check if the alignment is slightly off to the right or left. Look under the treadmill belt as well to examine the seam of the belt. It should be even across the width of the belt if it is properly centered.
Turn off the treadmill and unplug it from the wall.
Find the belt adjustment bolt at the base of your treadmill. The bolt will typically be located towards the rear of the treadmill deck. To find the exact location for your particular treadmill model, refer to your owner's manual.
Use an Allen wrench to loosen the belt if the alignment is off. Move the belt to the left or right, based on your alignment test.
Insert the Allen wrench into the bolt. Give it a quarter turn in a clockwise direction to fix the tension of the belt.
Recheck the tension of the belt. Plug in the unit and use the machine to evaluate the tension. Again it should be tight enough that you are able to walk without slipping and not see any ridges on the surface of the belt. If not, give it another quarter turn until it is tight enough.
Tips
Some instructions may vary for belt adjustment depending on the treadmill model that you own. Always first refer to your instruction manual for assistance.
Writer Bio
Heather Topham Wood is a seasoned writer whose work has appeared in numerous publications, including USA Today, Gadgetell, Feel Rich and Step in Style. Heather is a published novelist with six Amazon bestsellers and a contract through Crescent Moon Press. She holds a bachelor's degree in English from TCNJ.