The Best Positions for Tall People in Football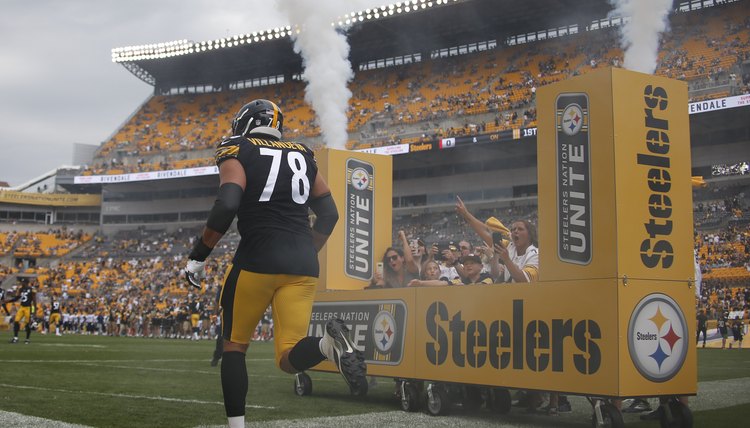 A player's success on the football field depends on a number of attributes, including strength, speed, athleticism and the will to win. A player's height can also be a factor in his ability to play football well, although in many cases a lack of height can be offset by a proficiency in one or more of the other attributes. Still, there are certain positions in football in which height gives a player an advantage, at any level of the game.
Quarterback
Quarterback is believed to be the most important position in football, primarily because the QB touches the ball on every offensive snap, and his decisions and level of play often determine his team's success. A taller QB has an easier time both seeing over and throwing over the offensive and defensive linemen, which increases his chance of completing a pass.
A study by Bleacher Report showed that, since 1980, ratings of NFL quarterbacks who threw over 350 passes increased with each height increment (with those 6'2" having the highest rating), and completion percentage was lowest for the shortest quarterbacks.
SportsRec analyzed the height and weight of 114 NFL Quarterbacks, the average NFL Quarterback height is 74.79 inches or more than 6 feet 2 inches.
Tallest Quarterbacks in NFL 2023
The Tallest NFL Quarterback ever is Dan McGwire, 6 feet 8 inches.
The tallest ‌starting‌ NFL Quarterback is 6 feet 6 inches. Here is a list of the tallest starting Quarterbacks in the NFL in 2023.
Receivers and Ends
Height can also be an advantage for those who catch the passes. Taller wide receivers and tight ends present a better target for the quarterback, and they have a greater chance of being able to out jump the defensive backs for a pass in traffic.
Although the Bleacher Report study showed that smaller NFL receivers had higher per-catch average, their taller counterparts had a higher touchdown percentage.
As with other positions in which height is a factor, college coaches are more likely to recruit receivers who have the prototypical size.
SportsRec analyzed the height and weight of 202 NFL Tight Ends and 381 NFL Wide Receivers. The average NFL Tight End height is 76.69 inches or more than 6 feet 4 inches. The average NFL Wide Receiver is 72.66 inches or more than 6 feet.
Linemen
Offensive and defensive linemen are generally the largest players on the field, in terms of overall size and body mass. With players at any level of competition, height will often accompany the size and weight needed to play on either side of the line of scrimmage.
However, height is more prized in defensive linemen than offensive linemen, as a player on the OL can excel at his position, especially at center, without being overly tall, while a defensive lineman can use his height to bat down balls thrown by the QB, and kicked field goals/PATs, and use his reach to make a greater number of tackles.
SportsRec analyzed the height and weight for 305 NFL Offensive Linemen and 413 NFL Defensive Lineman.
NFL Offensive and NFL Defensive Linemen

| Position | Average Weight (lbs) | Avg. Height (inches) | Avg. Height (feet) |
| --- | --- | --- | --- |
| Offensive Lineman | 306 | 76.77 | 6 feet 4 inches |
| Offensive Tackle | 315 | 77.85 | 6 feet 5 inches |
| Center | 306 | 75.65 | 6 feet 3 inches |
| Defensive Lineman | 277.5 | 75.5 | 6 feet 3 inches |
| Defensive Tackle | 307 | 75.1 | 6 feet 3 inches |
The tallest NFL position is the offensive tackle with several offensive tackles listed at 6 foot 9 inches.
Defensive Backs
Being taller can also be an advantage for those playing in the defensive backfield, though speed is a more important attribute for these positions. As with receivers, height provides an advantage for a cornerback or safety in battling for contested passes. As with defensive linemen — and linebackers, to a certain extent — greater size and reach increases the player's ability to make tackles.
SportsRec analyzed 334 NFL Cornerbacks. The average height for an NFL cornerback is 71.8 inches or just under 6 feet.
References
Writer Bio
Darrin Meyer has been writing since 2009. In addition to being a frequent blogger, his articles appear on eHow, Answerbag and other Web sites. Meyer has a Bachelor of Arts in broadcast journalism from the University of Nebraska-Lincoln.